Welcome to the Department of Music!
The Music Department's mission is to foster cognitive, critical, analytical thinking, and aesthetic appreciation through the study of music, and to develop musical performance skills to the highest level of students' capabilities.
The Music Department defines part of its mission to assist students to study, to hear, and to perform music with intelligence and understanding within the spirit of an art that transcends analysis. Courses of study are designed to provide a strong grounding in music history, theory, literature and performance, all, of which, call into practice skills of analytical perception and critical analysis that are necessary for academic disciplines.
Music Degrees and Programs
Audition Information
Concerts and Events
Upcoming High School Festivals
Featured Music Program: Music Technology & Production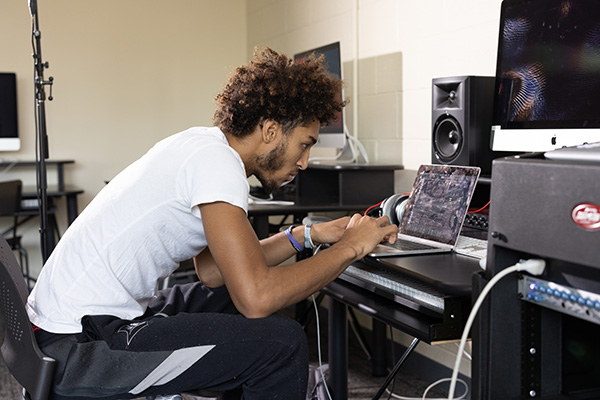 The Bachelor of Arts in Music Technology and Production is a specialized major where you will learn how to produce professional-quality music, as well as gain hands-on experience using music hardware and software technology, all while acquiring an understanding of the music industry.
In combination PC's well-rounded liberal arts curriculum, MTP graduates will be prepared for viable careers in the evolving music and media industries.
Music Technology & Production Curriculum
Did You Know?
For declared incoming music, music education, musical theatre (music track), and music technology and production majors (based upon audition), we are offering six $20,000 Gail Himrod, O.P. Music Scholarships!