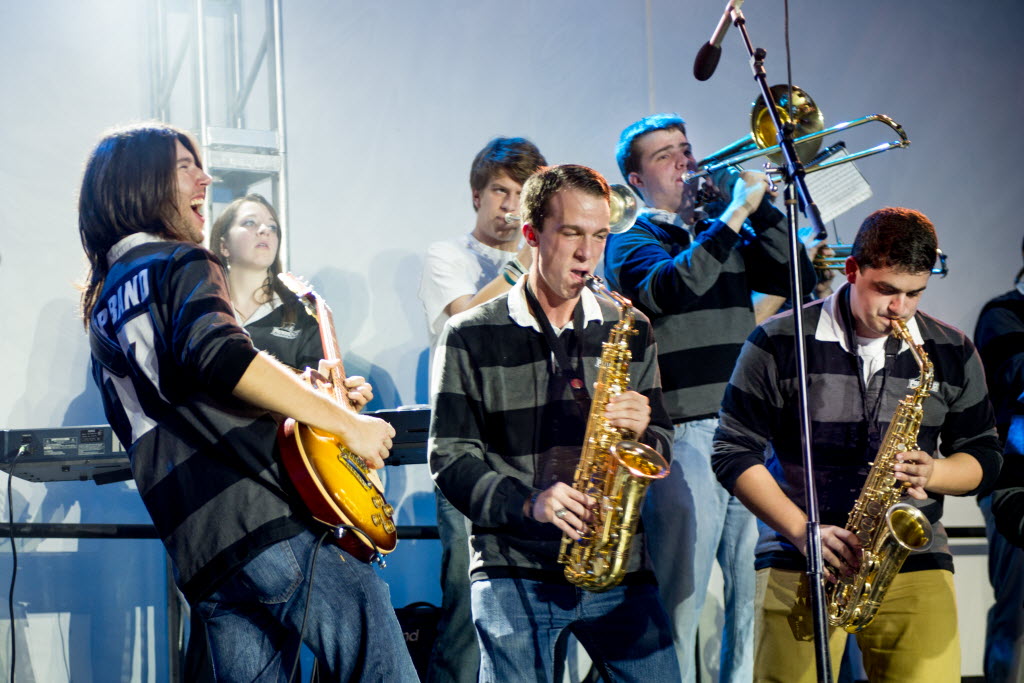 Ensembles and Lessons
One of the premiere private, liberal arts colleges in New England, Providence College boasts a Department of Music that supports eight ensembles (including three choirs, symphonic winds, two jazz bands, orchestra, and chamber strings), several small ensembles (from the more traditional quartets and quintets to an early music ensemble, jazz combo, piano ensemble, and new music ensemble), opera workshop, master-classes, and international tours.  All ensembles are open to students of any major. Whether your dream is to sing with the Metropolitan Opera, win a Grammy, perform with a world-class orchestra, become a music educator, lead musical worship, pursue a graduate degree in applied or academic music, or perform on Broadway, Providence College is a fantastic place to get an education and get started. We're glad to tell you about our program and our alumni—PC grads who have done all of the above.
Applied Lessons are open to the entire campus community
These are private lessons open to the entire campus community; instructors teach once a week on a one-to-one basis. Lessons do not count as a fifth course. There is an additional fee for these lessons. Students must register in the Music Department (Smith Center for the Arts G04)
2016-2018 Undergraduate Courses 
Instructors teach once a week on a one-to-one basis.  Lessons do not count as a fifth course.The Department of Music at Providence College boasts one of the most comprehensive training programs for singers and instrumentalists at the undergraduate level. The most important aspect of the program is the weekly private lesson with faculty. The low student-to-teacher ratio allows teachers to serve as advisors and mentors. Performance opportunities abound in solo, ensemble and dramatic settings. At least one solo recital is required as the capstone of the program for music and music education majors, and students have the option of performing non-required recitals. Frequent studio recitals, master classes, and opera scene workshops are scheduled, and PC supports eight ensembles and several small ensembles that perform every semester. Language instruction and elective opportunities are critical aspects of the study.