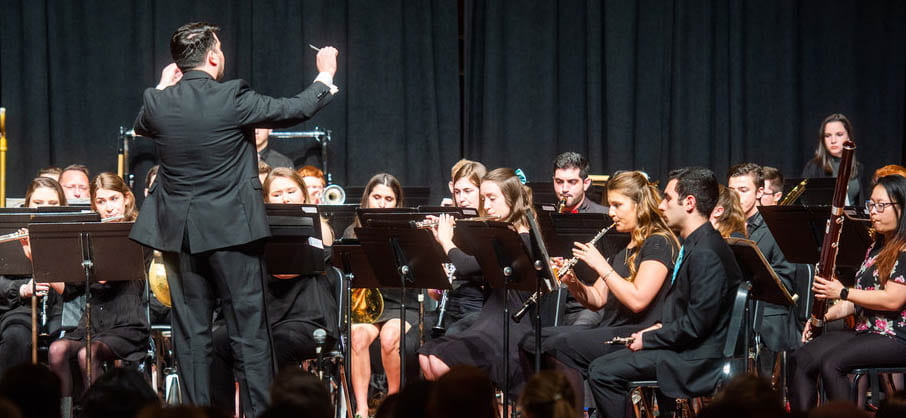 Meet Our Faculty
Whether you're a singer-in-training, an aspiring player, or you're interested in the history of music, our esteemed faculty members have you covered.
We're specialists in music education, choral music, jazz studies, vocal performance, and instrumental training — among many other areas of interest. Please explore the links to the left to learn more about us.
Faculty Offices are located on the ground level of the Smith Center for the Arts
Complete Faculty Listing
Catherine Gordon, Ph.D. – Chair
Music History/Harpsichord
865-1898 – G05
cgordon@providence.edu
Yoon Chung, M.M.
Adjunct Faculty
Piano Class/Music Theory/Piano
ychung@providence.edu
Anthony Costa M.M.
Adjunct Fall '22 Brass Methods
Elizabeth Heath, M.M.
Coordinator, Vocal Studies/Opera Workshop/Voice
401.865.1812 G11
eheath1@providence.edu
Jeffrey Hoyer, B.A.
Director of Pep Band
Trombone
jhoyer@providence.edu
Sang Woo Kang, D.M.A.
Director of Orchestra
Piano Class – Basic Concepts-Piano
401.865.2564 (G17)
skang1@providence.edu
Michael C. Kregler, M.M. ~ michaelckregler.com
Accompanist/Piano Class/Piano/Composition
401.865.1870 (G13)
mkregler@providence.edu
Kathryn (Kate) Longo
Interim Choral Director Fall 2022
klongo1@providence.edu
William Longo, D.M.A ~http://williamlongomusic.com
Director of Music Technology and Production
Composition/Jazz Studies/Music Theory
401.865.1371 (G06)
wlongo1@providence.edu
Eric Melley, D.M.A.
Director of Instrumental Activities
Symphonic Winds,/Jazz Band/Trumpet
401.865.2607 (G15)
emelley@providence.edu
Krishan Oberoi, D.M.A.
Director of Choral Activities
(G09)
koberoi@providence.edu
David Riley, M.M.,
Adjunct Faculty
Theory/Guitar
(G16)
driley3@providence.edu
JoAnn Thomas, M.M.
Visiting Full Time Professor
401.865-1954 G07
jthoma13@providence.edu
Gabrielle Toscano, M.Mus.
Orchestra, String Pedagogy and Teaching Artist
gtoscano@providence.edu
Applied Faculty
Patricia Wurst Cichy, Ph.D., oboe
pcichy@providence.edu
Randy Cloutier, B.A., percussion
randycloutier@cox.net
Neal Ferreira, M.Mus., vocal
nealferreira@gmail.com
Anne Gasper, M.M., flute
afgasper@cox.net
Elizabeth Gates, M.M., french horn
edeangates@verizon.net
Catherine Gordon, Ph.D., harpsichord
cgordon@providence.edu
Tom Gregory, M.A., tuba

Laura Gully, B.A.,violin
lgulley1@gmail.com
Elizabeth Heath, M.M., voice
eheath1@providence.edu
Rachel Hanauer, M.M, voice
rlhanauer@gmail.com

Jeffrey Hoyer, B.A., trombone
jhoyer@providence.edu
781.223.6691
Sang Woo Kang, D.M.A., piano
skang1@providence.edu
Christopher Kelton, D.M., saxophone/clarinet
ckelton@providence.edu
Michael Kregler, M.M., jazz piano/composition
michaelckregler@gmail.com
William Longo, D.M.A, trumpet/composition
wlongo1@providence.edu
David Martinez, M.A., organ
dmartinez@lasalle-academy.org
Eric Melley, D.M.A, trumpet
emelley@providence.edu
William Miele, M.A., electric bass
wmiele@cox.net
Vincent Pagano, drums
vinnyp@cox.net
David Riley, M.M., guitar
driley3@providence.edu
Bryan Rizzuto, electric bass
bryanrizzuto@gmail.com

Devon Russo, M.M.,voice
baritonedevon@gmail.com
Andrienne Taylor, M.M. cello
AdrienneLeilaTaylor@gmail.com