Concerts and Events 2018-2019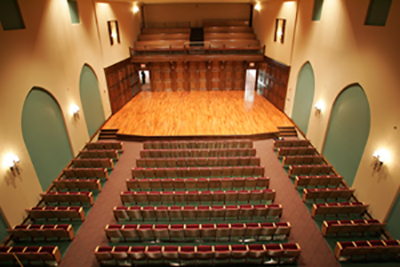 All Concerts are held in the Ryan Concert Hall ~ Smith Center for the Arts unless *noted
If you are a person with a disability and require an assistive device, service, or other accommodation to participate in this event, please contact the Central Reservations Coordinator (401-865-2070; M-F 8:30a.m. – 4:30p.m.) well in advance of this event.
September

Sunday, September 23 ~ 4pm
Music Faculty Recital

October
Friday, October 12~3 pm
Bohemian Quartet – Humanities Forum
Saturday October 13~4 pm
Auditions and Open House
https://music.providence.edu/prospective-students/
Friday, October 19 ~4 pm
Fridays at Four (Conducting Lab) cancelled
Saturday, October 27 ~2 pm
Recital of Music and Dance
Saturday, October 27 ~7 pm
Community Music Works
November
Friday, November 2 ~4 pm
Fridays at Four (Student Performance) ~Cancelled
Saturday, November 3 ~7 pm
Angel Subero and Latin Logic featuring PC Jazz Ensemble
note this event will be held in '64 Hall – Slavin Center
Tickets available at the door and in advance.
Slavin Information Ticket Office 401.865.2444
General Admission $10.00
Students and Seniors $5.00
PC Students with ID ~ free
If you attend Masterclass admission is free
Masterclass~with Angel Subero
Ryan Concert Hall, Smith Center for the Arts
Schedule:
2:00 ~ Demonstration – different styles of the Latin music world
3:30 ~ Hornline/rhythm sectionals
4:30 ~ Latin dance demonstration
5:30 ~ Dinner break
7:00 ~ Concert '64 Hall, Slavin Center
For additional information or to sign up for masterclass please contact Eric Melley, emelley@providence.edu

Sunday, November 4 ~4pm
The Coffee Cantata and Other Musical Delights by Johann Sebastian Bach
Wednesday, November 7 ~ 7 pm
Jazz Night  ~  featuring Jazz Ensemble, Funk Band and Jazz Combo
note this event will be held in McPhails, – Slavin Center
Friday, November 9 ~4 pm
Fridays at Four (Student Performance) ~ vocal
Friday, November 16 ~4 pm
Fridays at Four (Student Performance) ~ instrumental
Saturday, November 17 ~ 4 pm
Choral and Orchestra Concert
For Tickets: https://theatre.providence.edu/box-office/
Adult $15
Senior $10
Student $5
Friday, November 30 ~ 7 pm
Symphonic Winds Concert
December
Saturday, December 1 ~ 7 pm
Lessons and Carols at St. Dominic Chapel
Sunday, December 2~ 2 pm
Jazz Band featuring Jazz Combo and Funk Band
December
Friday, December 7 ~ 7 pm
Opera Workshop Performance
2019
January 
February 
Friday, February 1~ 9 am – 5 pm
High School Choral Festival
Friday, February 8~ 4 – 8:30 pm
High School Festival Band
Saturday, February 9 ~ 9 am – 4 pm
High School Festival Band
Saturday, February 9 ~ 4 pm
High School Festival Band Concert
Friday, February 22 ~ 7 pm  Ticketed Concert
Les Délices – SONGS WITHOUT WORDS
https://www.lesdelices.org/concerts/
For Tickets: https://theatre.providence.edu/box-office/
Adult $15
Senior $10
Saturday, February 23 ~ 7 pm
Keyboard Festival Concert with Thomas Rosenkranz, piano
 Masterclass 11:00 am

March
Sunday, March 24 ~ 2 pm
Senior Recital ~ Ariana Tomasi, soprano
Saturday, March 30 ~ 4 pm
Spring Choral Concert
Sunday, March 31 ~ 2 pm
Neil Ferreira, '02,  Operatic Tenor
http://www.nealferreira.com/

April
Friday, April 5 ~ 4 pm
Fridays at Four ~ Student Performance
Friday, April 12 ~ 4 pm
Fridays at Four ~ Student Performance
Friday, April 12 ~ 7 pm – Cancelled
Faculty Voice Recital with Elizabeth Heath and Sarah Dunn

Saturday, April 13
Admissions Family Day
Sunday, April 14 2 pm
Senior Recital, Fiona Anonuevo, violin
Friday, April 26, 6 – 9 pm
Choral Dress Rehearsal St. Dominic Chapel
Saturday, April 27 ~ 7 pm @ St. Dominic Chapel
Spring Choral and Orchestra Concert



Sunday, April 28 ~ 5 pm  Ticketed Concert (Box office opens one hour before start of event)
Symphonic Winds Concert with guest Jim Bonney http://copycatlicensing.com/ComposersPublishers/JimBonney.aspx
For Tickets: https://theatre.providence.edu/box-office/
General $10
Senior $5
PC Students, Faculty and Staff – Free
Monday, April 29 ~ 7:00 pm
Senior Recital, Bryan Sabbag, tenor
May
Friday, April 3 ~ 7 pm
Jazz Band Concert
June
Sunday, June 23 ~ 3 pm
Rhode Island Music Educators Honors Recital